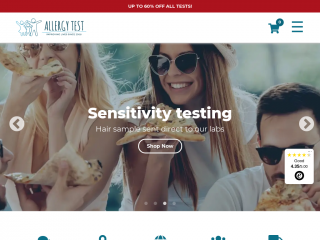 We have been offering wellness services to clients and partners since 2008. The business started with complementary and alternative medicines (CAMs), providing help and support to those that had exhausted conventional health paths. We rapidly developed a more extensive range of tests to include those that were scientifically supported and products from trusted brands.

Our global network of websites and partners now reaches over 40 countries providing allergy, intolerance, sensitivity, DNA and other health-related tests to clients.

We remain committed to our core belief that individuals should be presented with the relevant key facts relating to tests available to them and from those key facts they can make an informed decision on which path to take.

This is why we continue to offer both conventional and complementary products and services, therefore, offering the most comprehensive choice to a potential client. All our tests have a 'Test Facts' statement giving you the essential relevant information about the test. We were the first company to create and implement this useful aid in ensuring clients understand the test they are buying in November 2019.

Our head office and laboratories are located in Derby, United Kingdom. The labs follow Good Laboratory Practice and our state-of-the-art allergy and intolerance lab is part of a facility certified according to ISO 9001. We continue to invest in the latest equipment and training to ensure we provide our customers with the best possible service.