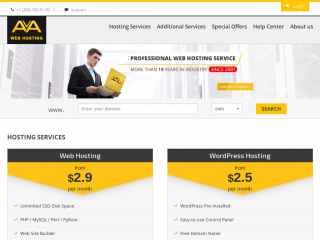 AvaHost has been successfully operating on the hosting market for more than 19 years, since it was established in 2001. At first the company started to focus on United States and other English speaking countries. One year later in 2002 the company opened up new branches in other European counries and launched few other non-english sites/brands. We are providing reliable service and the best web hosting solutions for personal web sites and small-to-medium sized businesses.
At this time we have thousands of clients located all over the globe.

We offer virtually all the major types of hosting packages and related services: standard hosting («virtual»
or «shared» hosting), reseller, VPS (VDS) servers, cloud VPS servers, domain registration, creation, website promotion, etc.