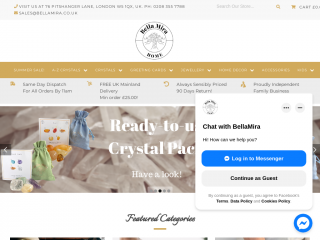 Style and Passion

Founded in Ealing in 2015, BellaMira Home brings together eclectic home decor and fine silver and gemstone jewellery celebrating original design and craftsmanship. All our jewellery reflects our passion for semi-precious stones, carefully selected for their intrinsic beauty. Brought to you from locations ranging from the farthest-flung shores to local artisan workshops in the UK, the BellaMira Home range is an Aladdin's cave just waiting to be discovered.​​​​​​​

Classic & Timeless
From bold statement pieces to elegant classics and meaningful designs, BellaMira Jewellery captures the essence of life's many moods and offers timeless designs to mark its important moments. Uplifting, comforting, joyful and romantic, discover jewellery that speaks your language, a touchstone for each and every day.​​​​​​​

Complement Your Home
Our range of home decor complement our collections in the colours of the season and include an inspiring range of gifts to celebrate an enduring friendship, a birthday or anniversary – or just to treat yourself​​​​​​​.

Our Passion
Our passion extends to every aspect of our business. All our jewellery is smartly boxed, sold with our simple no-quibble guarantee, and our London-based staff are happy to answer any questions so that you can shop with confidence.