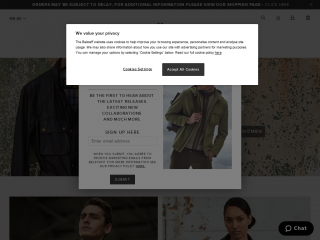 Belstaff is a modern British heritage brand steeped in the spirit of adventure, protecting independent spirits to venture free.

In Belstaff, the fearless explorer and the stylish alike will discover clothing for a contemporary lifestyle influenced by Belstaff¹s rich 92 year history, yet firmly rooted in the present and forever forward-looking.

Founded in 1924, in Stoke-on-Trent, Staffordshire England, with the innovation of the first water resistant wax cotton, Belstaff quickly became embraced by a group relishing the freedom and daring that the fabrics allowed.

Belstaff's classic belted wax cotton 4-pocket jacket became an instantly recognisable staple for the adventurous throughout the 20th century.