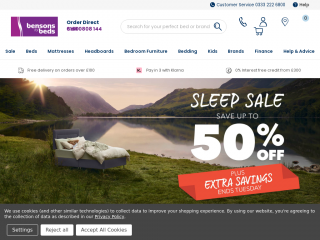 Bensons for Beds is a British bed retailer, selling a diverse range of beds, mattresses and bedroom furniture across its 170+ stores and online.

Headquartered in Accrington, Lancashire, Bensons for Beds has a dedicated manufacturing site based in Huntingdon, Cambridgeshire, where more than a third of its beds, divans and mattresses are made, as well as distribution centres in Ayr, Huncoat and Tewkesbury.

With over 100 years of retail and manufacturing experience to its name, Bensons understands the importance of creating the tailored sleep experience for customers, putting Sleep Wellness™ at the heart of everything it does.

That's why every customer visiting a Bensons store is offered a complimentary sleepPRO™ assessment, allowing them to choose a mattress that is right for them. To help make an informed decision, all our mattresses are clearly labelled with our Comfort Rating System, with blue being the softest and yellow the firmest.

At Head Office, Bensons has a highly skilled buying team that try, test and source the very best beds, mattresses, headboards, pillows, accessories and bedroom furniture. Its product range is wide and ever-growing, with collections from group brands such as Sensaform, Slumberland and Simply Bensons, as well as Sealy, Silentnight and Tempur.

Bensons is also fully committed to its sustainability journey, with every new product being designed or sourced with sustainability in mind. It's also set to incorporate more chemical treatment-free fabrics and new filings in its product ranges, using less CO2, water and land in the process.

As proud members of FIRA (Furniture Industry Research Association), Bensons has access to an unrivalled hub of expertise, covering all aspects of the furniture industry. This is reflected in their product range, some of which have been awarded the prestigious BSI Kitemark Accreditation, for demonstrating the highest possible quality standards.