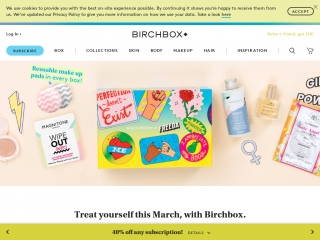 Birchbox is the brainchild of two friends with a desire to create a better way to shop for beauty products online. They designed an experience that allows customers to try a range of beauty products at home, then buy the ones they love at our online shop. Each month, our subscribers discover and learn about the very best of beauty, personalised to their wants and needs.

It's easy, efficient and fun - a monthly box of me-time!

We shipped our first Birchboxes in the States in September 2010, and in 2013 launched in the UK. Today, Birchbox has offices in the UK, USA, France and Spain, and more than 4 million subscribers and customers around the world.

Millions of boxes and product matches later, our mission remains the same: to help our customers find products they love. We keep that top of mind every. single. day.