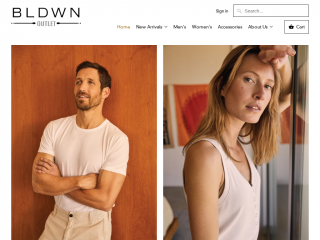 Founded by Matt and Emily Baldwin in 2008, BLDWN had always been a family affair.

BLDWN started out making quality jeans for their friends and ended up with the opportunity to dress Kansas city and then the US and now the world. All of our customers, whether they hail from the Midwest or Japan – are like family to us.

Due to the unfortunate events of COVID-19, BLDWN was forced to close their retail division along with all of their manufacturing operations. BLDWN found itself at a stand-still with a possibility of never returning.

After some time, IE Retail Ventures purchased the BLDWN name and assets. Their goal was to bring the BLDWN name back to it's loyal customer base, but the timing had to be perfect.

In February 2021, BLDWN was reborn and brought back as BLDWN Outlet. Our goal was to bring back the classic BLDWN product lines along with more of your favorite brand names at incredible luxurious prices.

We want our customers to know that BLDWN Outlet is more than a marketplace, it is a lifestyle boutique tailored to you.