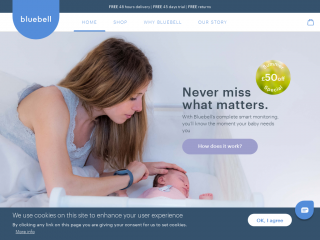 Parenting can be tough. From sleepless nights to crumb filled car seats, to never knowing if what you're doing is right. Bluebell uses the best technology and real, evidence-based insights to be an extra helping hand when it comes to yours and your little one's well-being.

Bluebell was founded back in 2016 with one mission in mind, to make parenting simpler. It all started when Romi's son Jeremy was born. The day-to-day stress of parenting started to impact Romi's well-being. The available baby monitors on the market did not offer complete 360-monitoring and also did not include support for parents.

Romi previously worked for the NHS as a senior analyst, where he learned about depression, SIDS and how they affect new parents. He joined forces with Naveen and Markus, who to shared his passion for building a product and platform to help support babies, parents and families. As a consultant psychiatrist, Naveen had the first-hand experience in dealing with parents' mental health difficulties. As an emergency physician, Markus had a lot of experience helping worried parents in A&E. World-class design agency Tangerine also played a huge part in the development and execution of Bluebell. Martin and Melinda Darbyshire, owners of Tangerine, brought their own experience as parents and knowledge of design to shape the functional yet elegant design of Bluebell.

They put their years of healthcare expertise and experiences of fatherhood together to bring the Bluebell Smart Baby Monitor to life. Since launching in retail in 2019, Bluebell has gone onto win several baby awards and accolades. From being awarded 'Best Baby Monitor 2020' in the Dadsnet awards, to being shortlisted for 'Innovation of the year' and 'Best Baby Monitor 2021' in the respected Mother & Baby awards and being recommended by several UK press outlets.

Bluebell was born out of a whole heap of experience, expertise, passion and love by a dedicated team looking to help parents and their wonderful babies.