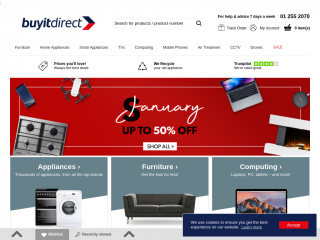 We started from humble beginnings back in 1999 with a small shop and we've quickly grown to become one of the UK & Ireland's largest online retailer. We have a number of purpose built distribution centres where we despatch well over 2,000 orders every day across the UK and Ireland!

We're passionate about what we do and it's our mission to bring you the best deals from all the leading brands, whilst also offering the best possible advice through our specialist trained sales team who collectively have over 100 years' experience.

We're not going anywhere! Unlike some of our competitors we don't have shareholders so we can focus on making sure you always get the best prices rather than trying to make money to pay bonuses! We've grown every year since entering the online market in 2000 and we don't intend to stop.

We've been a leading online retailer in the UK & Ireland since 2000. We were one of the first websites to sell Laptops online and we quickly branched out to specialise in a number of different categories. We operate a range of websites specialising in Computing, TVs, Gadgets, Furniture and Kitchen Appliances.