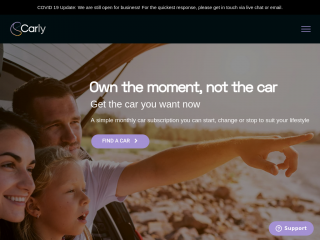 Carly exists to give you access to car in the quickest and easiest way possible.

We know that saving up for a deposit takes too long and signing up to a loan or a lease is a hassle and stops you from changing your car when you want to.

With Carly, you can find the car that suits your lifestyle and when things change, you can change the car to suit your lifestyle. Own the moment, not the car.

Carly was born out of the knowledge gained through eight years of operating DriveMyCar, the car rental arm of our parent company Collaborate (ASX: CL8). Specialising in long-term car rentals, we saw that more and more people were looking for a solution that had most of the advantages of car ownership without the commitment or hassle. Fast forward to today… and Carly has arrived!

Carly connects the automotive manufacturers and dealers industry directly to car subscribers. We already work with many of Australia's leading brands to provide a great range of cars.