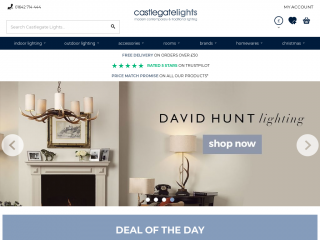 Castlegate Lights, your online lighting superstore bringing you high quality lighting at discounted prices.
We have been in business for over 30 years and we stock a large range of light fittings, from crystal chandeliers, ultra modern, Tiffany lighting, bathroom fittings, traditional lighting, in fact, just about every style of light fitting to suit your home inside and outside. Endon, Dar, Searchlight, Kontsmide, Bell, Illuminati, Loxton Lighting, Interiors 1900, Impex, Firstlight, Elstead, Franklite, Eglo are some of the lighting companies we deal with.
Our new showroom is situated on the outskirts of Stokesley at Units 2, 2A & 2B Terry Dicken Industrial Estate, Ellerbeck Way, Stokesley, TS9 7AE.