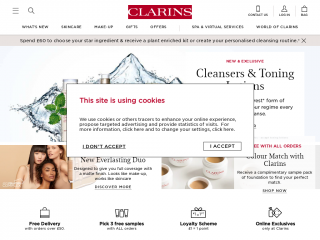 In 1954, Jacques Courtin-Clarins decided to "take beauty seriously" and developed 1 unique philosophy: Develop a dialogue with women to satisfy their desires for well-being and respect them by offering a range of the best plant-based skin care products distinguished by their innovation and effectiveness.

These products and their application methods met with immediate success. On this basis, in the early nineties the Group became the European leader in skin care products and expanded into 2 other cosmetics segments: make-up and perfume, through 4 prestige brands: Clarins, Thierry Mugler, Azzaro and Stella Cadente.

Today the Group has well-established worldwide reputation supported by: an expanding international network of 20 distribution subsidiaries, a presence in 150 countries, a gross workforce of 6,100 employees, 19,000 points of sale and net sales approaching the €1 billion milestone.