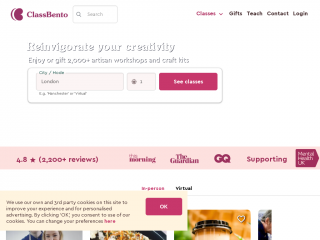 Our team wake up every day to make workshops more accessible for people to improve their social and mental wellbeing. Since 2016 we have empowered over thousands of artisans, makers, cooking schools, cafes, bars and restaurants to run fun workshops for over 1 million people.

John, co-founder and originally from the North East, saw close up the rise of burnout at the forefront of digital and social media. He found workshops the best way to help his team disconnect and enjoy mindfulness.

John met Iain, his fellow co-founder, originally from Malaysia, at a high growth tech startup where they experienced the fast-paced but high burnout lifestyle. A turning point came when John lost his grandma to dementia which spurred the launch of ClassBento.

The name ClassBento comes from the startup's original teacher, a Japanese florist, Setsuko who ran Ikebana floristry classes from her small floristry studio. John and Iain were inspired by the philosophy of the Japanese - Ikigai - which translates to "finding joy in life through purpose" associated with life long expectancy in Japan. And you will love trying the carefully curated offerings from a Bento box.

Now both dads with young families, they've built a fun-loving crafty team, and together they are helping makers and artisans teach what they love and help people everywhere with their social and mental wellbeing, and donating to Mental Health UK with every booking.