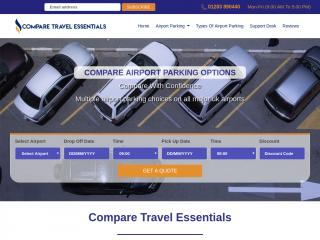 We are a comparison website and provide airport parking booking services at every major airport in the UK. We are working with numerous parking service providers at selected airports and only those parking lots are listed on our comparison list who have fulfilled our security criteria.

Compare Travel Essentials is committed to finding you the best product for your requirements. We are a customer-centered and market-driven company, focussed solely to make traveling easy and hassle-free! Our state-of-the-art protected transaction policy and a simple UI is created to give a seamless experience to our clients. Compare Travel Essentials takes all trends' in the tourism business into account, invests in new infrastructure and offers both leisure and business travel solutions through its advanced technology. Our customer support teams are trained to uphold a high degree of professionalism with courtesy and skill.

Compare Travel Essentials is the preferred airport parking booking website for most travel management companies and their thousands of clients. To find out more about how you could become one of our parking partners and enjoy a variety of business discounts you can contact us on our phone number or email us on our official email address.