About Crystal Travel US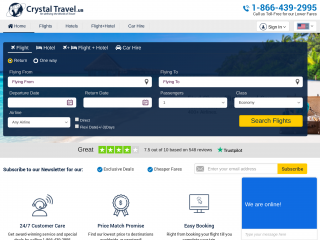 Crystal Travel is the leading pan-European flagship travel company of Moresand Group of Companies providing online flight deals. Being a prominent name in the travel world, it offers the lowest flight tickets to US residents, bringing together more than 150 leading airlines, all committed to providing excellent service and value.

We are proud of our passion for travel, initiating memorable experiences and utmost customer satisfaction. Crystal Travel is the official travel agent for over 84 airlines, offering the best price for flights in US and across the world. You can book budget flights in US and beyond, and avail our services from our website and through telephonic conversation with our travel experts.