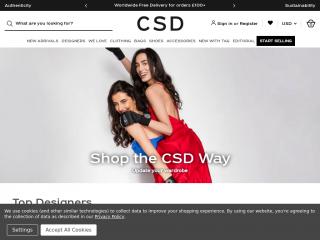 A new destination for authenticated luxury consignment. We're empowering and inspiring consignors and buyers to join the circular movement and extend the lifecycle of luxury items.

At CSD, we believe in investing in quality pieces that will last a lifetime. As part of our mission to create a more sustainable fashion future, we need to find better ways to expand our closets without harming the planet.
Fashion is one of the most wasteful industries in the world, largely due to the fickle nature of trends. As trends rise and fade season to season, 92 million tons of textiles waste is created annually from the fashion industry. Shockingly, every second, the equivalent of one garbage truck full of textiles is landfilled and burned globally.
While the traditional fashion industry relies on a 'take-make-waste' linear model, CSD's circular economy is regenerative and restorative by design.
Check out our sustainability coalitions and pledges to learn more about how CSD is taking action against waste in the fashion industry.