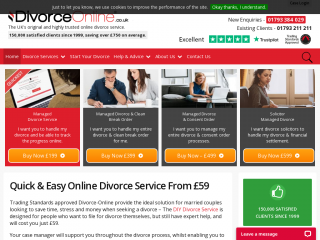 Divorce Online was the first online divorce legal service to launch in the UK and was founded in 1999 with a mission to deliver affordable legal services and amazing customer service.

With the help of legal experts and IT professionals, we set about creating a set of systems and processes, based on internet technology, that would allow people to file for divorce online in the UK, without having to pay thousands of pounds to lawyers.

The idea came from people continuously asking our founder, why they had to pay thousands of pounds to lawyers when there were no issues to worry about.

All these clients wanted was for someone to do the documents for them and obtain a quick divorce, not spend hundreds of pounds paying two sets of solicitors to pour over every letter, phone call and detail.

Not only do we help people divorce quickly and easily, but we also ensure that our client's finances are fully protected by providing a range of financial services that are handled by qualified solicitors.

Much like divorce, people don't want to spend thousands having solicitors pour of their divorce settlement. Our solicitors will help you obtain a consent order following your divorce from just £199.

In 2020 we are proud to have been able to help over 180,000 plus couples to end their marriage with dignity and without excessive cost. We believe we are the largest filer of divorce cases in England and Wales.