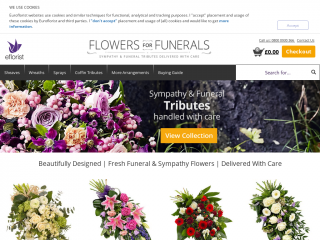 Beautiful Funeral and Sympathy flowers from eFlorist
Flowers For Funerals
The tragic news that someone near or dear has passed will never come at a good time, but it is important you are able to send sympathy flowers to the family, friends, colleagues or loved ones to say you are thinking of them at what is most certainly a difficult time. We have been sending flowers for any occasion for more than 65 years and understand the importance of any special occasion but also the sensitivity and the need for everything from the ordering process to the safe and secure delivery of the order to be seamless and stress-free.

At Flowers For Funerals, we pride ourselves in being a name you can trust. We understand the importance and value of sending only the best flowers to cater for your funeral needs. Inside our easy to use website we have created the perfect tributes, hearts, cushions and sprays to express your deepest condolences. Our speciality is care and attention to detail, with every order receiving that personal touch and handled by our dedicated UK Customer Service team who are on hand for any question you may have.

Hand Delivered By Local Florists
Choosing the right flowers for a funeral is often dictated by one's relationship to the recently deceased or bereaved. Our buyers guide to Funeral Flowers provides an insight and guidance to help you choose the correct item for the occasion. The eFlorist Tributes range caters for a wide variety of colour themes and floral schemes across a range of different funeral Tributes and should cater to every requirement and budget. There are many types of Funeral and Sympathy flowers to choose from. Choosing the correct Tribute can be a daunting prospect; this guide aims to provide some insight into the different types of funeral flowers and Tributes that are available from flowers for funerals. Our dedicated support team are on hand if you need further advice by simply calling 0800 0930 366.