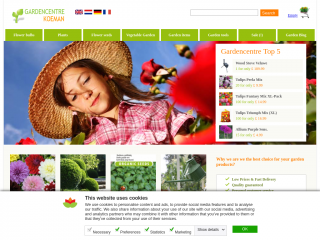 It all began very long ago in Holland, where the Koeman family first started growing tulips - a small patch meant for the cut flower trade. We didn't even sell flowerbulbs to England until 1960, when Jacobus Koeman came over to sell his family crop of flower bulbs.
Family business
Those bulbs grew - and so have we. Now there are three generations of Koeman which have taken part in our company, bringing you the best and most interesting bulbs and perennials that Holland has to offer. We may have a lot of employees now, we're still a family business!

And that's why we take such pride in our work, and put such emphasis on customer satisfaction. We're not just sending out products - we're putting our name and reputation on the line.
Online since 2007
We've been building our website since 2007 - each version better than the last.
Dutch flower quality guaranteed
All our plants come from very reliable, expert growers - we would never offer you anything collected from the wild! We believe in respecting nature, and just giving her a bit of a helping hand with the color schemes and designs.