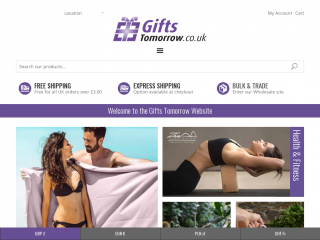 Launched in August 2020, giftstomorrow.co.uk is a natural progression from our already extensive e-commerce experience within the Business-to-Customer market. Our new platform offers a variety of gift, home and office products from some of our best company ranges including our own branded items. Our extensive product ranges are constantly growing and keeping up with the times as our experienced team specialise in sourcing exclusive, dynamic and modern products from across the world. Constantly searching to bring the unseen, cool and new, whether it be gizmos, barware, homeware or the unusual to the marketplace. They are selected to deliver trend-based, innovative, beautifully designed and packaged gifts to put a smile on every face. From the sensible to the damn right strange.

With every product we stock, our team of specialists produce amazing, descriptive images, videos, content and clear specifications. As with our own retail sites – CKB Ltd®, Lanyards Tomorrow®, Bar Amigos® and Snug-Rug – our exceptional service, commitment, reliability, customer care and fast delivery times have been applied to Gifts Tomorrow, instantly making us a trusted gift supplier on the market.
Our Aim Is to provide customers with a friendly efficient service that works for you – as we understand the challenges of retail gifting and the desires of consumers. A Prompt flexible delivery nationwide – we offer a no-fuss returns policy – anything defective will be replaced or refunded easily.