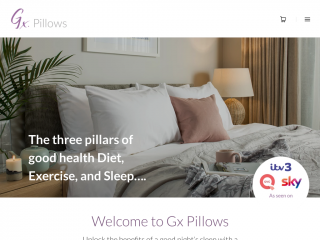 I'm Alexander Miles and I've been designing furniture and other household delights for 30 years and have more recently stumbled upon something wonderful and unique with the Gx Suspension Pillow™.

This world class (1st of it's kind ) invention is a pillow that works in an opposite way to a traditional classic pillow.

By using a support tie new technology, the outer structure of the pillow supports the flow of it's hollow fibre filling, ensuring that the pillow structure adapts to fit head and shoulder movement.

This not only greatly improves head and neck comfort and support, but it really does provide a better sleep experience, with energy levels up after a good night's sleep you're ready for the day.

The Gx pillow is much more than a pillow and will soon to be launched in to the United States and Europe, the sleeping experience is truly remarkable.