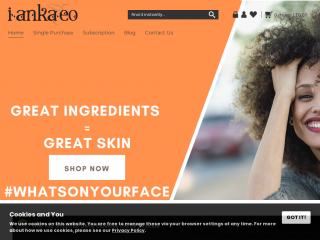 I started i.anka-eo because I could not find a simple, nourishing product for my face. Then one of my friends gave me some coconut oil with rose oil and my skin felt lovely, but I still felt I could find something better. I was intrigued and started reading about essential oils and learned how nourishing these oils can be for the skin. I began searching the shelves for any natural product made with essential oils, but could not find anything that met my need for a pure and simple skin solution.

And so, I began to blend my own, the first of which was Good Night Ahhh. Friends and family were my test subjects and when my friend's husband began using her product I knew I had something. He of course requested his very own formula, something that didn't smell "too girly" and so Good Night AhhhMen was created.

Discover our 100% organic facial oil blends for sensitive, dry, oily and combination skin. Non-toxic, Cruelty-Free, Vegan-Friendly. Hand-made in the UK.