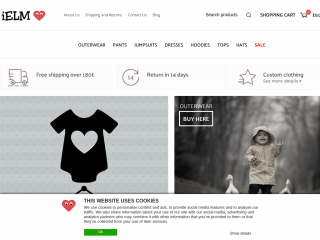 iELM (Filip and Family SRL) was founded in 2013 in Sweden. We are a small family business that designs and manufactures clothing in a limited edition and aims to dress kids in unique garments at the right price. Today we have more than 80 000 customers, and over 100 000 followers on Facebook, with an vision to expand across Europe.

The source of inspiration of the iELM brand were the four children of the family, Ida, Elin, Livia and Marcel. They are also those who give us the energy to constantly evolve and come up with new ideas.

Our philosophy is to create children's clothing using innovative design in which both the appearance, function and feeling fit together. The styles of our garments are simple and therefore timeless. We let the fabric to be in the center and the small details transform garments into something truly special. Most of the garments are unisex, which is an important detail for us. The clothes are made of durable fabrics that allow many washes, they are soft and comfortable, so our little ones can have a good time. The garments easily become a favorite for both children and parents.