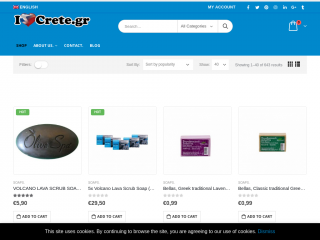 Ilovecrete.eu is part of Crete online imports and exports BV a Dutch company runs by Dutch and Cretans with offices at Hoorn (NL), Amsterdam (NL) and at the Greek island Crete at the cities Heraklion and Agios Nikolaos. Crete online import export BV is registered at the chamber of commerce Amsterdam with number: 64609766 and at the Amsterdam tax office with number: NL190577198B02.

At Ilovecrete.eu we are crazy at making great deals with and for you selling and shipping directly online to our worldwide costumers and offline as a wholesaler or intermediary for our business-clients.

We are shipping our products twice a week on Tuesdays and Fridays before 12:00 o'clock offering our clients this way a higher discount from our shippers ACS for regular local (2 eorking days) and European shipments (3-5 working days) TNT Express for delivery whit-in (2 working days) Europe and UPS for the American continent.

We have a wide range of great local produced Cretan mostly Organic or herbal products that we would like to introduce to the world. Have a look at our shop and discover the wide range of Biologic, Natural and Herbal products produced at the Island of Crete.