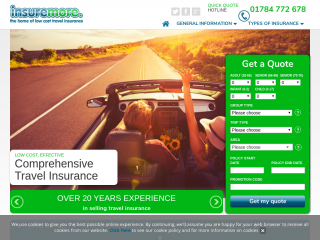 InsureMore is a leading travel insurance provider and is part of PKC Associates Ltd. We have been providing travel insurance to millions of customers since 1991 and pride ourselves on our products and service.

Whether you are travelling to Hawaii on holiday, Belfast on business or France for a family break we have a policy to suit your needs and make sure you are covered should anything go wrong before or during your trip.

Over the years we are proud to have won many prestigious awards for our products and services including Best Travel Insurance Website & Best Innovation for Online Claims.