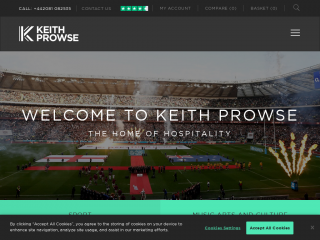 Keith Prowse pioneered the partnership between business and sport almost 40 years ago, introducing the concept of client entertaining in exclusive areas such as executive boxes and restaurants. It was just one example of the spirit of innovation that has driven our people ever since London stage impresarios William Keith and Robert Prowse came together 220 years ago to launch a theatre ticket-selling enterprise.

Today, Keith Prowse hospitality experiences are the industry benchmark against which other packages are measured and this market leading position is supported by our parent company.

As the world's largest food service provider, Compass Group operates in 50 countries, employing 509,000 people, with annual sales of over £17 billion.