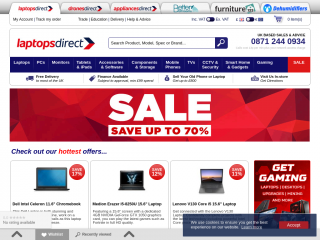 Laptops Direct is the UK's largest specialist supplier of Laptops, PCs, Monitors, Tablets & Accessories. We're proud to offer a huge range of products from the brands you know & love, including the likes of Apple, Toshiba, Packard Bell, Samsung, Sony & many more.

As well as brand new products like the latest Gaming Laptops & the best Core i7 Laptops, we also provide a great range of fully tested & professionally Refurbished Laptops & Refurbished PCs.

PCs are a great option if you only plan on using a computer when at home. A regular Desktop PC will need a monitor, keyboard & mouse connected to it to be used properly, whereas an All in One PC comes with a built in monitor. As well as our range of standard PCs we also have an extensive range of Gaming PCs from the likes of HP, Alienware, MSi & ASUS, plus all the Gaming Accessories you could want!

Tablets are smaller than Laptops & PCs because they have a touchscreen as opposed to a mouse & keyboard. This makes them super portable & easy to use, allowing you to swipe, tap & pinch things on screen with your fingers. Convertible Laptops/Tablets, come with keyboards that you can remove or fold out of the way, meaning you can use them for both work & for pleasure.