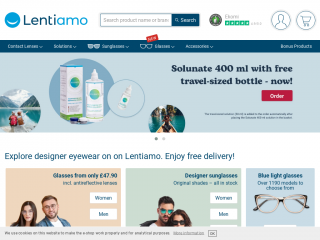 Lentiamo.co.uk is an online optician selling glasses, sunglasses and contact lenses. The company was founded in the Czech Republic and is run by a group of dedicated people who are enthusiastic about eye care and eyewear excellent products and great customer service.

Our range of products includes prescription glasses and non-prescription glasses, blue light glasses, sunglasses and dioptric and non-dioptric contact lenses, coloured lenses, contact lens solutions, eye drops and other eye care accessories.

The shop includes brands such as Acuvue, SofLens, PureVision and manufacturers such as Alcon, CooperVision and Bausch & Lomb amongst others.