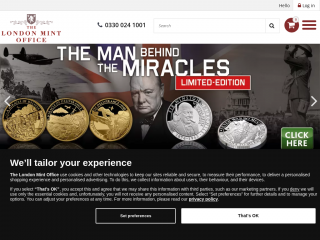 The London Mint Office is a trusted and respected partner for a large number of British coin collectors. Gold, silver and other precious metals have fascinated mankind for many centuries, making coin collecting a popular hobby the world over. The London Mint Office is at the centre of British numismatics, bringing the fascinating world of coin collecting to both existing and new collectors.

The London Mint Office is a privately owned company established in 2006. It is part of Samlerhuset AS, a Norwegian company based just outside of Oslo who are one of Europe's biggest distributors of commemorative coins and medals and the owner of the Norwegian Mint.Together with its sister organisations across Europe, The London Mint Office provides a wide range of coins from ancient to modern, originating from virtually every country in the world.

Through long grown partnerships with most of the major state mints and national banks across the globe, The London Mint office has become one of the leading sources in the coin collecting community.

With unrivalled expertise in this specialist field and a visionary approach to sourcing and customer service, The London Mint Office is committed to enhancing the enjoyment, understanding and knowledge of collectors of all levels of experience the world over.