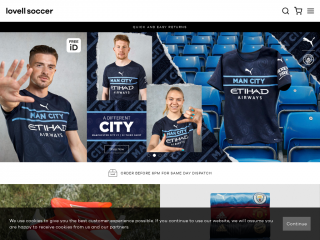 Here at Lovell Soccer we know how important the beautiful game is to our customers, we share that passion taking pride and care in delivering exceptional levels of service to our customers around the world.

With over 25 years of sports expertise we like to think we know a little about the game and we are happy to share our extensive product knowledge for players and supporters of all ages and abilities.

Lovell Soccer embraces the personal touch, none more so than with our FREE personalisation service offer on football boots. Make yourself the envy of your team-mates for that special touch on the football pitch.

To our dedicated team, a humble pair of football socks is as significant as a high-end football boot. We are here to assist you in delivering high performance on the football pitch and achieve your potential no matter what your level of play.