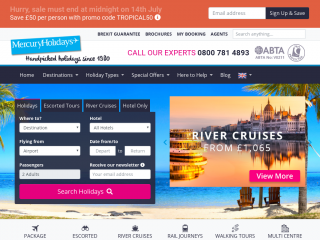 Established in September 1980, Mercury Holidays has grown from small beginnings to become one of the UK's leading independent Tour Operators. We specialise in arranging award-winning package holidays, escorted tours and river cruises to destinations the world over - and all at unbelievable prices!

Our offices are based in Sevenoaks, Kent. Our friendly team of staff are always happy to help. They are well-travelled and have visited many of our hotels and so can provide you with first-hand knowledge of the country and hotel you need information on.

We only sell our own carefully selected holidays, those in which we have confidence and which you, the customer rate as good or excellent in our questionnaires. That is why we get more and more repeat bookings every year and why so many clients are introduced to our holidays by friends who have travelled with us.