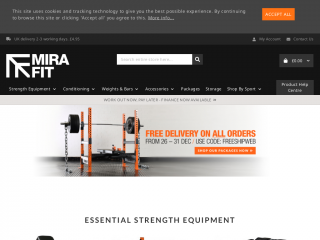 At Mirafit, we know that fitness is about more than just working out.

Fitness is about building both physical and mental strength. It's about having the freedom to do the things you want to do – both in and outside the gym. Fitness is about pushing your limits and finding reward, progression and clarity through training.

Ultimately, fitness is about having the power to define who you are.

Launched in 2014, Mirafit was borne out of the belief that we all deserve the right to a healthy heart, a strong physique and a clear mind. We deserve to have gym equipment that's high quality, built to last and also great value.

Our company is committed to providing that much-needed solution that's been missing in the fitness industry.