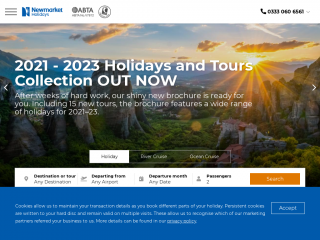 Newmarket Holidays was founded (as Newmarket Promotions Limited and with just two staff) in March 1983, in the South London flat of one of its founding directors.

Three and a half decades later, we've become one of the UK's largest independently owned specialist tour operators, with headquarters in Wallington, Surrey.

A major supplier throughout our history of 'reader holidays' offered in conjunction with national, regional and local newspapers and magazines, Newmarket has enjoyed long-standing partnerships with all of the UK's major publishers. Since 2007, with the launch of our bookable website, Newmarket has traded online, and we've further widened our sales distribution through the development of partnerships with High Street travel agents and online affiliates.