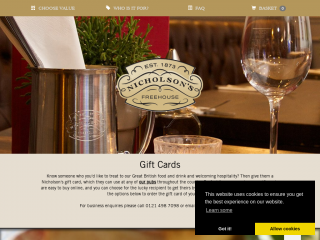 Nicholson's great British pubs are known for their distinctive architecture, colourful history and vibrant atmosphere.

Within our historic walls, you¹ll find the best pub traditions: A superb range of cask ales from specialist breweries, freshly cooked pub food, warm and genuine service and a vibrant atmosphere.

Mr William Nicholson's other great legacy is Lord's cricket ground, home to Marylebone Cricket Club. He lent MCC money to buy the ground and build its famous pavilion, now a listed building. In a subtle example of Victorian corporate sponsorship, the grateful MCC changed its colours to the red and gold of Nicholson's gin.