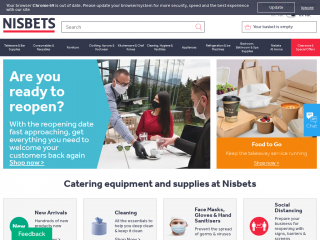 Quite simply our company purpose is "Catering equipment made simple". We do this in three main ways -

Choice - of product range, price and shopping channel

Quality - with different product and service options

Service - by setting the industry standard, speed to market and making it easy to do business with us

Established in 1983 on the basic principle of high quality catering equipment affordably priced. Today Nisbets products cover everything from refrigeration to pastry, cooking machines to knives, and everything in between.

At Nisbets, we understand the pressures of a commercial kitchen and making your life easier is at the heart of what we do; Order before 8pm for next day delivery, plus order by 3pm Sunday for Monday delivery !

Our head office is based in Bristol, with offices in Ireland, Holland, Belgium, Germany, France, Spain and Australia. Plus our export division ships to over 100 countries worldwide (wherever you are, its never too far!)

We are constantly growing and put our success down to:

Low Prices; We are committed to supplying catering equipment to all our customers at a low price. If you find a lower published price on the same terms, we will match it.
Customer Service; We handle thousands of orders every day, and our specialist teams have been trained to give every call and order the attention our customers deserve. We listen to our customers and continually strive to improve, see a selection of our customer testimonials.
Next Day Delivery; We pride ourselves on next day delivery which is free in many cases.
Huge Product Range; We stock over 25,000 products in order to fulfil our customers' needs.
Within Nisbets, we are conscious of our environmental impact, with dedicated team of volunteers committed to keeping us green, for more information see our Environmental initiatives.

We are committed to ensuring that every aspect of our organisation and supply chain are free from slavery and human trafficking. For more information see our Slavery and Human Trafficking statement.

Nisbets Plc, Fourth Way, Avonmouth, Bristol, BS11 8TB - Company No: 01693112. VAT No: 974 8030 00.