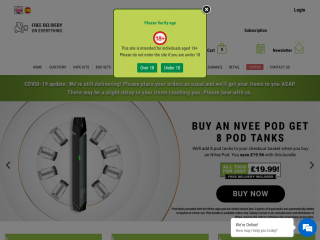 NVee's been getting into the hands of users since 2015. When the Tobacco Products Directive came upon the UK market, NVee remained in the market despite the regulation forcing out many other manufacturers and brands with its more stringent rules around the size of bottles, nicotine strengths and packaging.

To ensure quality at every step of the way, we became manufacturers or e-liquids in October 2018. Our facilities are accredited with ISO Class 7, meaning all of our e-liquids are bottled in a clean room environment that has a filtered air conditioning unit, and all staff must wear hair nets, shoe nets and lab coats. Our lab is equipped with a state of the art GC-MS testing facilities to ensure the highest quality standards are met consistently, while also using the highest quality ingredients in our e-liquids, as well as maintaining full TPD compliance.

On average, we produce 100,000 bottles of e-liquids per week that are tested on site. These are all given with a batch number that is fully traceable back to the source. Our devices remain sourced from trusted, reputable and established manufacturing partners in China. Their compliance to the international standards and qualification assures the high quality of each device and experience in usage.

As of November 2020, NVee is in over 20,000 UK convenience store and online sales continue to grow.

Throughout 2019 and 2020, NVee will be expanding into international markets to allow vapers beyond the UK to experience the world of NVee.