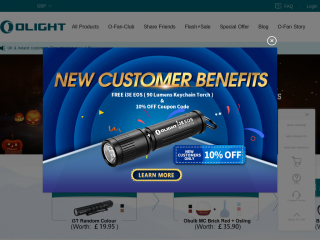 OLIGHT TECHNOLOGY CO., LTD. was founded in 2007. Olight make the best tools and personal lighting in the most convenient forms. Our products push the limits on durability and technology to empower users to do more even in the dark. Olight have spent over a decade developing the best lighting technology from brightness to size and weight but more importantly how Olight can improve lives with light. Olight continue to deliver cutting-edge products that remain accessible to everyone.

We are a team of designers and engineers with a passion for quality and pushing the limits. Lighting experts with a passion to provide the best power and functionality LED Torches for our customers. We make products that help our customers do what they do best whether that's public safety work or exploring the great outdoors.

Our products are sold in more than 90 countries and regions worldwide. Including United Kingdom & Ireland, United States, Canada, France, Germany, Poland, Spain, Italy, Romania, Russia, Ukraine, Israel, Middle East, India, Korea, Japan, Singapore and Malaysia, Philippines, Indonesia, South Africa, Mexico, Argentina, Australia, Bulgaria, Brazil, Chile, Finland...