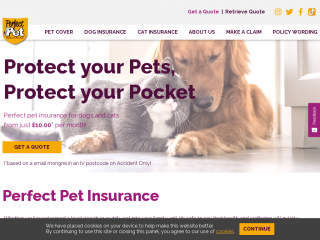 Perfect Pet was set up to make the important decision of buying pet insurance simple and easy to understand, from choosing a quote to website navigation.

This is the reason we created a quick quote which allows you to select the best policy for your precious pet as simple as possible. Innovation in the market is vital to us, and we have developed a unique market product in our Public Liability cover.

The Public Liability cover was developed from listening to our customers and their needs.

We have designed the Perfect Pet quoting process to be as fast and easy as possible.
We are one of the first insurers to offer a 'Liability Only' insurance option for dog owners!