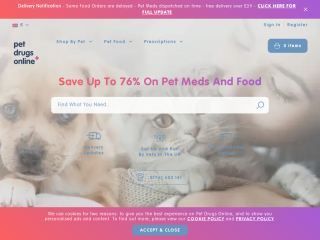 I'm the head vet and have been in practice for 30 years. In the early days of my career I worked mostly with farm animals, then for the last 20 years I have been treating all types of domestic pets, large and small.

Over the years I've seen every type of pet, in all states of health, inside and out! I've also witnessed first-hand the amazing sacrifices owners make to ensure their pets get the very best treatment, despite having to cope with the ever increasing prices of veterinary drugs.

This is precisely why I helped launch Pet Drugs Online, from the office of my small local veterinary surgery near Bath way back in 2005, to allow clients to dramatically cut their pet health care costs. When we started out, Pet Drugs Online was very much on the side lines for the occasional online shopper. Now, as one of the UK's biggest suppliers of veterinary medicine, we're able to help even more pets get the medicines, supplements and foods they need.

Everyone in the team is a pet owner and pet lover. Our aim is simple - to provide the best for your pets, as we do for our own. So let us help you to look after them well!

Founded in 2005, Pet Drugs Online has grown to become one of the UK's largest, most-trusted, vet-run suppliers of veterinary medication and animal products licensed in the UK. Not only are we one of the UK's largest retailers of pet medication; we're also part of IVC Evidensia, the UK's and Europe's largest veterinary group with over 1,500 practices spanning eleven countries.

You can buy safely from us knowing we are vets, and that every aspect of what we do has been scrutinised by the governing body and government agencies. You are guaranteed that the products we ship are sourced from the same suppliers as your own vet.