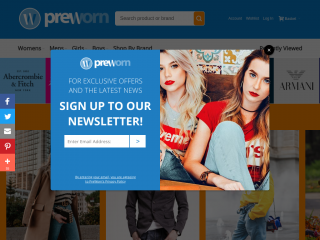 An estimated 235 million items of clothing end up in landfill sites in the UK each year? To bring this in to perspective...a football pitch sized piece of earth is buried 6 feet deep in clothing waste (1.83m) every 12 hours!.. 365 days per year!

Approximately just 12% of preworn clothing actually ends up in clothing recycling centres in the UK with around 95% of that clothing then being sent abroad!

Approximately 5% of the clothing which ends up in the recycling centres actually stays in the UK and so as consumers in need of clothing, we are forced to keep adding to this cycle by buying new once more!

We at "Preworn" buy as much clothing from that 5% as we can...We then heavily grade, measure, photograph, warehouse and professionally present each individual item online in order to encourage you to buy preworn clothing rather than new. Our mission is to provide you with a much larger selection of clothing (outside of forced high street fashion trends) at a cheaper price, whilst doing a little to help the planet at the same time.

Any clothing we buy which is truely waste, we pay to be sent to textile companies who then proceed to get the fibres back out of damaged goods (to create new) or turn in to new products such as soundproofing, insulation etc...We send nothing to landfill and want to change the behaviour of people and their clothing buying and disposing so that yourself and earth ends up in a better position moving forward.

Our clothing range currently includes men's and women's suits, denim jackets, jumpers, cardigans, sports jackets, coats and ties. We are raising funds to aid the expansion of our clothing range to include jeans, dresses, shorts, skirts, shirts and more...