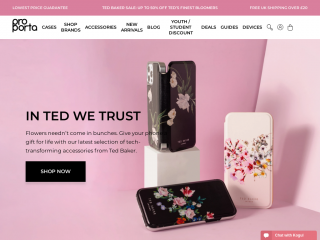 We design, manufacture and sell accessories for Apple iPhone, iPod, iPad, Samsung Galaxy, Sony and Amazon Kindle devices as well as a few others.
Our product line up includes:
- Fashion branded accessories from Ted Baker, Barbour, Barbour International, Roxy, Quiksilver and Joules.
- Proporta branded accessories, including BRUNSWICK ENGLAND, designed in the UK by our in-house team.
- Power solutions, including the Award-Winning USB TurboCharger.
- Screen protection, cable tidies and waterproof solutions.
An integrated Tablet and Laptop range, with option power solution – The Stephenson Satchel.
- A personalisation service (we like this as it means we get to play with lasers).