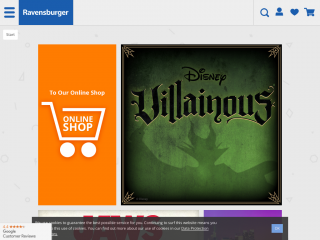 Ravensburger North America (RNA), a division of Ravensburger AG, is a portfolio of award-winning brands with a shared vision to promote playful development at every stage and every age. The RNA family of brands, including Ravensburger, BRIO, and Wonder Forge, offers an expansive line of beautifully designed puzzles, games, toys and activities.

Founded in 1883, Ravensburger is a leading producer of puzzles, award-winning board games, and engaging science and arts and crafts kits. As a family owned business, Ravensburger has built a reputation as a trusted brand for both parents and children alike.

BRIO has been creating quality products and happy childhood memories since the end of the 1800s. With a clean and simple design language, BRIO products encourage and open up a whole universe of fun, where the only limitation is your own imagination.

Since its launch 2007, Wonder Forge has consistently offered top-quality experiences, raising the bar for preschool and family games everywhere. The preschool titles celebrate the "can do" attitude in all kids—engaging them physically, socially, and creatively. The family games bridge generation gaps and create wholesome family moments and lasting memories.

Not only are all of our products thoroughly tested, but they are made from high-quality materials to create the best experience possible.