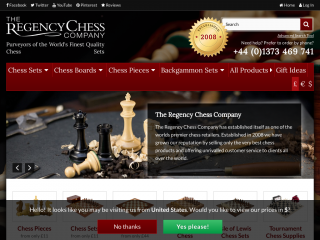 The Regency Chess Company was formed in 2008 by Julian Deverell and is based in Frome, United Kingdom. Julian decided to set up a specialist chess retailer that supplies only the finest products and present them on the internet in a form that customers can easily understand and compare. By combining skills in design, photography and product sourcing the Regency Chess company has created a clear and concise online shopping experience that allows the customer to choose a quality chess product online with ease and confidence.

Julian spent much of 2007 traveling to Europe and Asia to seek out and establish relations with high quality chess manufacturers. By visiting each chess workshop in person, he has ensured that only high quality, well made products are sold on the Regency Chess web site. In this way, each supplier is vetted to ensure that they are operating in a clean, honest and fair way without exploitation of their craftspeople.

The strong aesthetic sense we possess is reflected in both the web site design and the selection of products. The company has chosen each chess set for its beauty and fine craftsmanship.