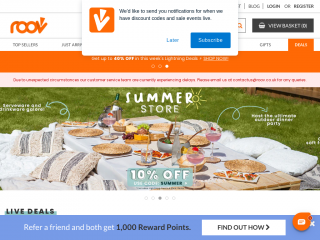 At Roov, we love homes and are just as passionate about the products that go in them. We focus on Quality, Style, Variety and Value. Our range of items are selected from some of the finest quality products from brands such as Maison & White. Our goal is simple, to offer a range of products that covers all aspects of life at home, making it as easy and as enjoyable as possible.

We are a fast paced, energetic, online retailer aimed at giving you the best possible deals with our huge range of Home & Garden products as well as a range of complementing products you never knew you needed!

Xbite, the company behind Roov, has been operating in the UK for over 15 years! We operate from our custom built head office and logistics centre in Chesterfield, UK, so you can rest easy knowing that your order is picked, packed and dispatched all under the same roof.