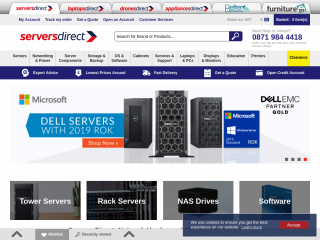 Servers Direct boasts of an outstanding level of personalised service which we feel cannot be matched by any of our competitors. We have built an organisation with a superb reputation for providing qualitative IT hardware at highly competitive prices. Over 50% of our business is generated from word of mouth rather than advertising.

Through our relationship with the world's leading manufacturers we are able to pass on huge savings direct to business and education customers, backed by expert advice and dedicated account management.

Here at servers direct we offer a complete range of IT support services. We are able to offer a range of bespoke services to customers across the UK. From hardware configuration services through to full IT outsourcing, we can accommodate all requirements at highly competitive rates backed by a professional and reliable service.

We're passionate about what we do and it's our mission is to bring you the best deals in the UK from all the leading brands.