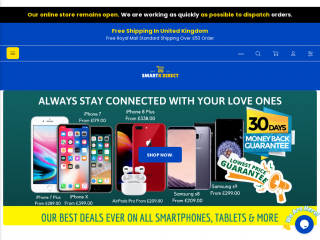 SmartX Direct is a global online shop for all brands of consumer electronics and gadgets sourced from all over the world. We will do our utmost to provide the best price possible for each item listed on our shop to ensure that shopping on our site could be fun, cheap and stress free.

We have now launched Smartxdirect.co.uk so that we can expand our excellent value and services in digital products to customers in United Kingdom.

​SmartX Direct Group has been providing online shopping services for more than 5 years on eBay.co.uk and now our online store operated in Australia, the Europe, USA, Germany, France, Italy , Spain, Ireland, Pakistan which we have already served more than 500,000 satisfied customers. All of our customers are delighted by our fast delivery service and customer service, which you may visit our sister company's review for your reference.