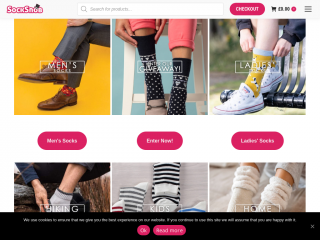 2011… A year of humble beginnings. Lindsay Doughty, a housewife from Leicestershire, was working from her spare bedroom selling dresses online when her husband, a veteran of the textile industry himself, came home with a collection of sample socks one evening. Lindsay immediately added the socks to her online shop, and the customers loved them.

In a matter of weeks, the demand for socks had risen to a few dozen, and soon Lindsay's husband was bringing home boxes of socks. And the orders just kept rolling in. By now, Lindsay could no longer work from her spare bedroom and had to move her operation into the garage. But soon she outgrew even that!

Just a year later, Lindsay found herself in a 1,200 square foot unit, shipping socks all over the UK. The demand was most certainly there, but the operation was missing a name and a purpose.

It didn't take Lindsay long to realise that she wasn't just selling ordinary old socks. They were creative socks, novelty socks, of premium quality at prices that everyone could afford. Yep, that was the moment Lindsay knew that she was a first-class Sock Snob… and so was the community of foot owners she was selling to! From that point on, things just started getting better and better, and Lindsay's range of socks grew. Her online shop now caters to all sock requirements – from perfectly ordinary to exquisitely novel.

Lindsay and the Sock Snob team have left their humble beginnings far behind. We now sell socks on Amazon and eBay, where a global audience has access to our finest selection. We ship socks throughout Europe, the USA, Canada, Australia and even Japan. Our socks have perfected our strive for warmth, comfort and style and we are now passionately exploring a new range of medical socks, breaking into a new niche to ensure that all our customers have their sock-needs met.

And you probably noticed – we don't just sell socks anymore! In our online shop, you'll find a wide range of hats, gloves, bow ties, lingerie, hosiery and pajamas. Dig a little deeper, and you'll find even more.

We are incredibly proud to offer only the very best imaginative and creative sock brands to our customers. From classic dress socks to work and novelty socks; all hand-picked by Lindsay and her team for sock lovers worldwide. These socks won't let you down!