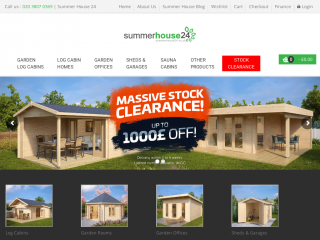 Summer House 24 online shop is a proud member of the Hansa Garden Group and BigFire LTD. We are an international company that designs, produces, sells, and delivers log cabins to countries including: the UK, Germany, Austria, Sweden, and Switzerland. Most of our summer houses can be recognised by their unique Hansa Garden design and modern look. We strive hard to design beautiful but practical summerhouses while still keeping them simple and affordable. We are on hand seven days a week, with a friendly UK based customer service team to answer any questions you may have.

To offer the best possible quality and great prices to our customers, we run our production unit in Estonia. Minimising our impact on the environment is central to all our operations, from the sourcing of raw materials through to our wood processing, running clean and efficient trucks and office systems. Our Summerhouse's, Garden Buildings and Log Cabins are made from slow-grown Nordic spruce, all from sustainable managed forests. We then use the latest wood processing technologies to create your quality product. Most of our cabins can be assembled by a DIY enthusiast. However, those who prefer spending their free time doing something else, can hire our professional team to assemble their cabin within a day or two, depending on the size.

All our products are packed securely in waterproof packing and so can remain packed for a short period until you are ready for your structure to be assembled. We are pleased to offer free delivery to most parts of mainland UK.