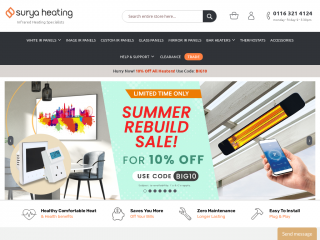 Who Are Surya IR Heating Systems?
Surya IR Heating Systems (Surya Heating) are specialist retailers in Infrared heating technology based in the outskirts of Leicester City Centre.

We supply both the public and trade customers throughout the United Kingdom, with top of the range Infrared Heating panels. Each order placed follows a simple and effective process: Premium products without the premium pricing, delivered efficiently all whilst you receive first rate customer service.

What Are IR Heating Panels?
IR heating panels is a new technology that is emerging to reduce the costs of your heating. These can then be either surface mounted or recessed into a suspended ceiling and from there they can warm your room up. They also don't require monumental amounts of piping and radiators to be installed as they plug straight into a 13A Socket.

These panel heaters are available in either a plain white finish or come with images printed onto the front helping you blend your heater straight into your decor.