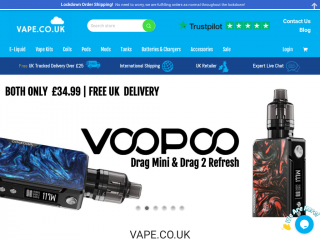 VAPE.CO.UK is a UK Based Vape Retailer and is a safe haven for people who are trying to quit smoking and just can't keep up with the E-cig jargon. RDA this, sub OHM that, we get it; it's tough.

We are here to help you through every step of the journey, offering a simple website you can read and navigate without getting lost in a million different products, offers and brands.

There is so much choice when it comes to E-liquids, Nic Salts and kits. That's why we are on hand to help you. Just use our online chat to speak to one of our UK based Vape Experts.